Why box braided wig for your daily choose?
•
Posted on October 28 2020
On the fashion stage, hairstyles come in endlessly. But there's one classic hairstyle that has long been a fashion favorite, especially for black women, and that's what we're talking about today: the box braids.
So when you want to change your hairstyle but don't know it, box braids are definitely worth a try. It also has an evergreen hairstyle among many ebony women.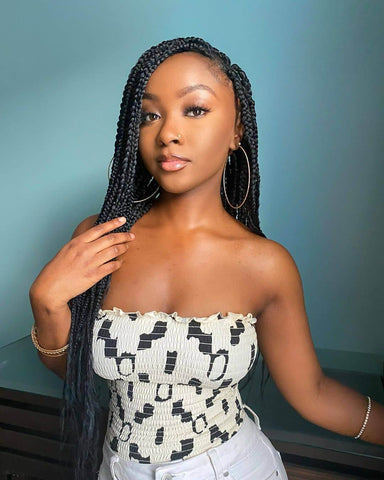 Advantages of Box braids for ebony women:
1. Easy to maintain: Box braids come in different lengths, but they are easy to clean and care for as long as they are tightly woven during the knitting process.In various life scenarios, it is the most commonly used hairstyle for beauty lovers in daily life.
2. The whole look is a classic: with so many lengths to choose from, from shoulder-length to waist-length, it shows off the different charms of each woman.
3. Youthful looking: Long black hair is often seen as a sign of girls. On the contrary, short and medium length hair is a sign of more vitality and youth. Try tying it up and you'll see that short hair gives a clean, elegant look whether it's between the chin and the shoulders, or well beyond your chest, naturally drooping hair subtly enhances the muscles in the cheeks, sunken temples, or high cheekbones. All in all, the long box braid is a hairstyle that accentuates the perfect face, harmonizes the imperfect face, and accentuates the five senses.A natural hairstyle will give you a lot of confidence.
4.Suitable for various styles of wear: Long, box braids are a great way to look unique when looking at an Ebony woman.I believe box plaits will fit well into your daily or irregular outfit.
The classic box braids is a tight braid of three strands of hair of the same length, and with a fastening end, it's easy to keep the look clean and neat for a long time, perfect for the most neatly-looking black woman.
Wigs are no longer just for practicality! It's a fashion accessory that, when paired properly, can completely change your personality. Box braided wigs are so versatile that they can easily solve the problem of having to wait a long and expensive time for a long braid, saving you the expense of the barbershop and the tedious hour-long wait because they require less maintenance and care. There is a reason why braids and wigs are so popular in the female market. This is because changing our hair is one of the main ways we take control of our lives!
There's nothing better for an ebony women than a long box braided style.Take a braided wig, simply put it on your head, and after a few minutes of grooming, create the perfect box of braids.The wig comes with a hat and fits most people's hairstyles.These box braided wigs are long enough to fit in an updo as well.
Where to find them:
If you're interested in buying these braided wigs for ebony women, you can easily look them up on the Internet. A box braided wig might seem like a daunting task, but with Rosebony, you can do it well, on budget, and still use high-quality products!