Which Are The Best-Rated Braided Wigs For Ebony Girls?
•
Posted on December 12 2020
If you want to have long braided hair styles that matches your outfit without the hassle of going to a hairstylist then the braided wigs can be a good alternative for you. Most African American women love a hairstyle with braids. On the other hand, the majority of women are afraid to experiment with their natural hair because of the highly cost and long-time waiting. The only answer to all these issues is a pre-braided wigs. They look neat and classy. Also with these wigs, you can experiment with your hairstyle without damaging your natural hair.
Following is a list of beautiful and natural-looking braided wigs for black women in trend:
Long

 

Box Braided Wigs
Box braids are a type of hair-braiding style that is predominantly popular amounts black people. African American celebrities and most ebony girls alike are obsessed with an iconic: box braids. The traditional African braids rose in popularity stateside nearly 30 years ago, It marked an era of black television, film and music. You may found Jada Pinkett (pre-Smith), Poetic Justice-era Janet Jackson, and Beyonce as Moesha Mitchell. In the corner of 2021, box braids are the wonderful solution to rocking a protective style while adding highlight for your hairstyle.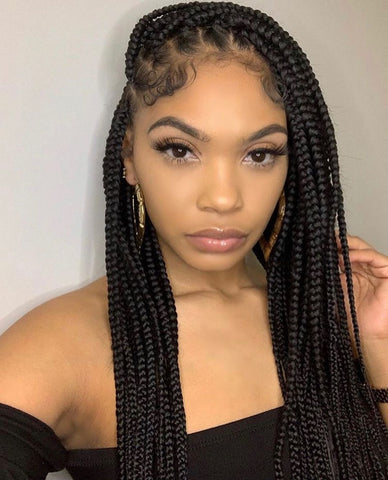 If you are looking for natural shiny long box braided hair style then this could be your go-to product. It has high quality synthetic hair with adjustable straps at the back which makes it easy to work with. The braids look neatly and tight and can be easily to fit a ponytail or headband style. If you are uncertain about buying a box braided wigs then you can go for this product as they are very comfortable to wear and also very easy to style as per your choice.
Box Braided Style With Curly Ends
If you are not a fan of neat braids but with curly ends then you can count on this product. The box braids with curly ends or called goddess box braids can give a fantastic feels which beyond your imagination. Some free stands reach out the box braids with curls can help you to fit a much more full and layered texture.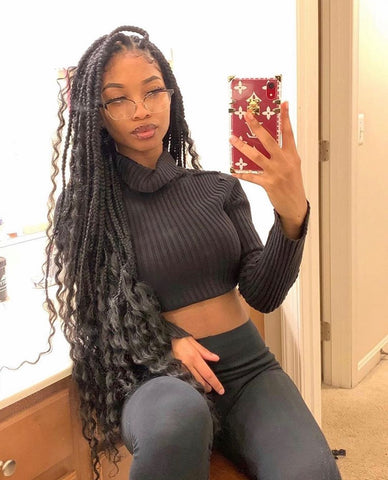 A box braided wigs can give you not only convenience but also a more fashionable experience, it's easy to install, taking it out from your package and simply put it on, most of the wigs designed with combs on each side of the cap with helps to secure your wig units on a right position, and a elastic straps in the back side of the wig cap to helps adjust the cap size to fit your whole head.
3.

 

Senegalese Twist Braided Wigs
The Senegalese hairstyle is very trendy these days and the one with ombre color is like icing on the cake. Most African American women are afraid to twist their hair into a twisted style but they also want to go with the trend. If this is your case too then you can shop these Senegalese twist braided wigs. This wig is made of pre-braided braids with lace front and trimmed easily. It is neat, comfortable, soft, and natural.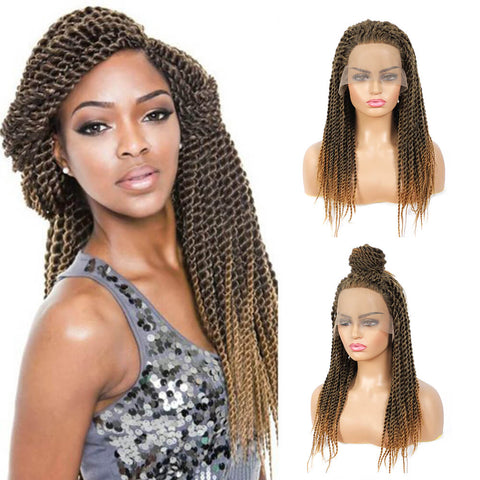 There are several colors are most popular amounts young girls and mature ladies, first of all the 1b black color more likes unprocessed natural hair, follows with brown colors like ombre 27 and 30 colors like pictures below, they are classic but never out of fashion.
Passion Twist Braided Wigs for Ebony Women
Passion twists were created by the talented Miami-based hairstylist Kailyn Rogers. Which is known as The Boho Babe, and the name is appropriate for someone who developed a look that's so artsy and offbeat. Rogers invented the style for her clients that wanted a natural and easy-to-maintain hairdo while also radiating high levels of glam.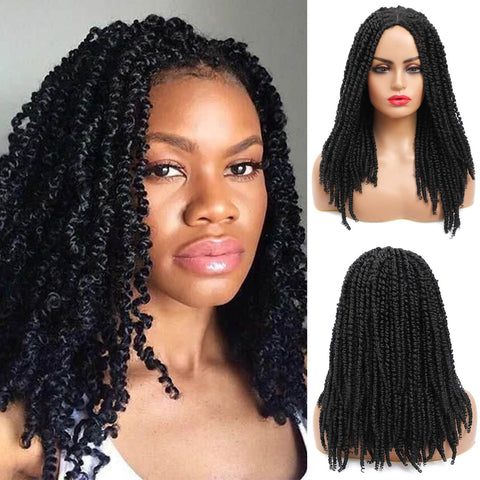 Do you want to have a bold look without destroying your hair? This passion twist braided wig can be the best choice for you. It has a fake scalp design with natural-looking curls. It more like to these mature women for daily look they want to rock. It is also perfect for attending concerts or for outings. It is very comfortable to wear and can be easily slayed.
Things To Keep In Mind While Buying Braided Wigs
You must be certain about the style of wig that you want.
You must be certain about the length that you want.
Select the style according to the shape of your face.
It should have no smell and should last a long time
These are the several tips that you must keep in your mind while buying a braided wig. This will help you to analyze and judge which type of wig you want and which one will suit you. If you are a beginner and are buying a wig for the first time you must buy the one that matches your current hairstyle or hair color. It will help you to get used to it and then you can experiment with your looks every day. You can create seven different looks for seven days of the week, or shock everyone by getting dolled up for a party.
Conclusion
This article is the ultimate guide for people who want to buy braided wigs for black women. All the products that have been mentioned above are all hand craft but they last longer and are of high quality. It doesn't matter if you are new to wigs or you want to experiment more with them, all of the above-mentioned styles and products will be helpful for you.